Cubes, Cones,
Cylinders, and Spheres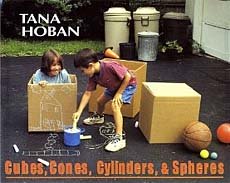 Another great Tana Hoban shapes book (others here). The focus in this title is on three dimensional shapes, like cubes, cones, cylinders, and spheres. Like her other books, this title shows readers how these shapes are all around us all the time.
As with the other books by Tana Hoban, this is a great lead in to a class shape-hunt around the room, hall...
Peek Inside
Below are sample pages from inside this book. Sorry it's so small. We are
working on getting a larger image.


To learn more about this book, click the link below.  Please note that if you purchase an item from Amazon, they give us a small referral fee. (This helps pay for site hosting costs, thus allowing us to keep everything free for site visitors!)

---