Click, Clack, Splish, Splash:

A Counting Adventure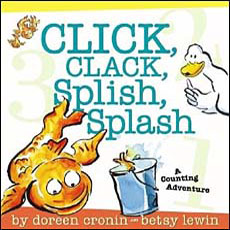 by Doreen Cronin
illustrated by Betsy Lewin
More farmyard antics with the Click, Clack, Moo gang. In this book, duck and friends are on a rescue mission, but readers don't find out exactly who is being rescue until the end. Each step in the mission involves increasing numbers (3 buckets piled high, 4 chickens standing by...)
This book is part of the hilarious Click, Clack, Moo  series of books -- one of those series that kids can't get enough of!
This particular book did seem a little short--as if it's over before it really gets started--but if you're looking for a fun book to read aloud to preschoolers who are just learning numbers 1-10, this is a great pick, especially since each page includes a large numeral in addition to the text and illustration.
Reading Levels
Interest Level: Pres-Gr. 1        DRA Level:  12                 Lexile Measure: 300L  
Grade Equivalent: 1.0             Guided Reading: G


See Inside
Below are sample pages from inside this cute book. Fans of the Click Clack series will recognize the fun illustrations and the same darling characters (ie: the farmer, the duck...).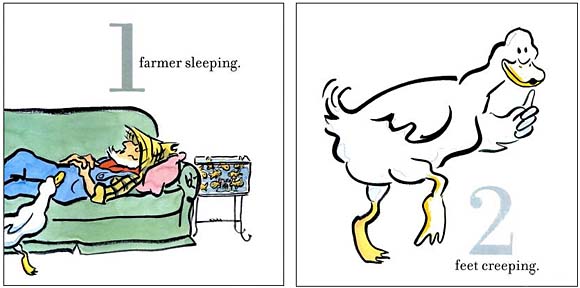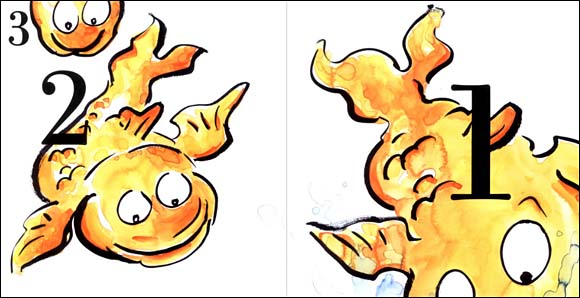 To learn more about this book, click the link below.  Please note that if you purchase an item from Amazon, they give us a small referral fee. (This helps pay for site hosting costs, thus allowing us to keep everything free for site visitors!)

---
If you love this book (you will!), check out the whole series of Click, Clack books by Doreen Cronin and Betsy Lewin.  This book started it all, and we're so glad they've kept the fun going!