Benjamin Franklin Biography for Kids

We've enjoyed reading the many Benjamin Franklin biography books for kids in order to compile this list. Franklin truly was a remarkable man. Centuries later, his curiosity is still contagious!  He had such wide ranging interests, each deep enough to generate a much needed invention--most of which are still in use today.
Students can see Benjamin Franklin's inventions all around them-- from the postal system that they use to mail their letters to the bifocal glasses that  their grandparents wear to the odometer that measures the miles on their parents car. "Seeing" Ben Franklin all around them helps make the man much more 'real' and relevant in their own lives. 
Below are some of the best Benjamin Franklin biography books for children, each of which does a great job of bringing this 'old guy who lived a long time ago' to life for young people.


Benjamin Franklin Biography for Kids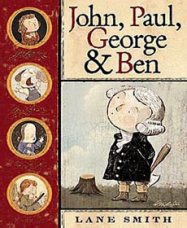 John, Paul, George
and Ben
by Lane Smith
1st grade - 5th grade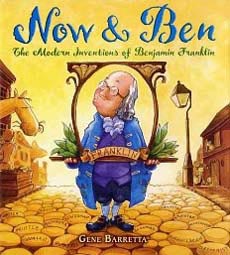 Now and Ben
The Modern Inventions of
Benjamin Franklin
by Gene Barretta
2nd grade - 5th grade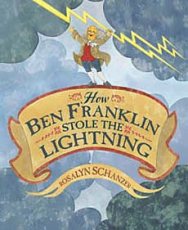 How Ben Franklin
Stole the Lightning
by Rosalyn Schanzer
2nd grade - 4th grade

What's the Big Idea,
Ben Franklin?
by Jean Fritz
3rd grade - 6th grade

Ben Franklin,
American Genius
His Life and Ideas
with 22 Activities
4th grade - 8th grade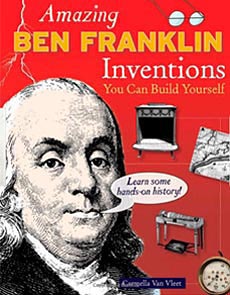 Amazing Ben Franklin
Inventions You Build Yourself
by Carmella Van Vleet
5th grade - 8th grade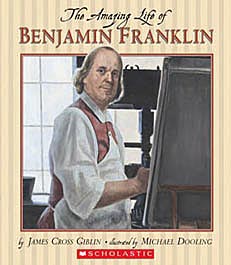 The Amazing Life of
Benjamin Franklin
by James Cross Giblin
3rd grade - 6th grade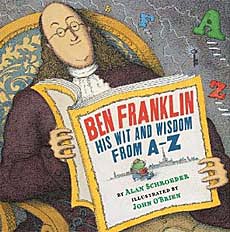 Ben Franklin, His
Wit and Wisdom
from A to Z
by Alan Schroeder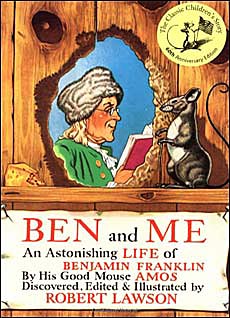 Ben and Me
An Astonishing Life of
Benjamin Franklin
by His Good Mouse Amos
3rd grade & Up

other Ben Franklin biography books

Below are several other well-recommended children's biographies of Benjamin Franklin. We don't have dedicated review pages for these books because we haven't had a chance to read yet, but we wanted to let you know about them...




To learn more about any of these books, click the book titles to see their listing on Amazon.  Note that if you purchase an item, they give us a small referral fee.
B. Franklin, Printer  by David Adler   (Gr. 4-8)
Ben Franklin's Fame  by Stacia Deutch  (Gr. 2-5)
Who Was Ben Franklin?  by Dennis Fradin  (Gr. 3+)
Ben Franklin of Old Philadephia by Margaret Cousins  (Gr. 4+)
Ben Franklin and the Magic Squares by Frank Murphy  (Gr. 2-3)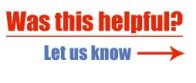 We LOVE getting likes!  It makes us want to keep making these lists!  :) Please press LIKE if you found this information helpful. And help us spread the word by sharing the page.


Or Pin this page to your Pinterest board to share it and remember it for later. :)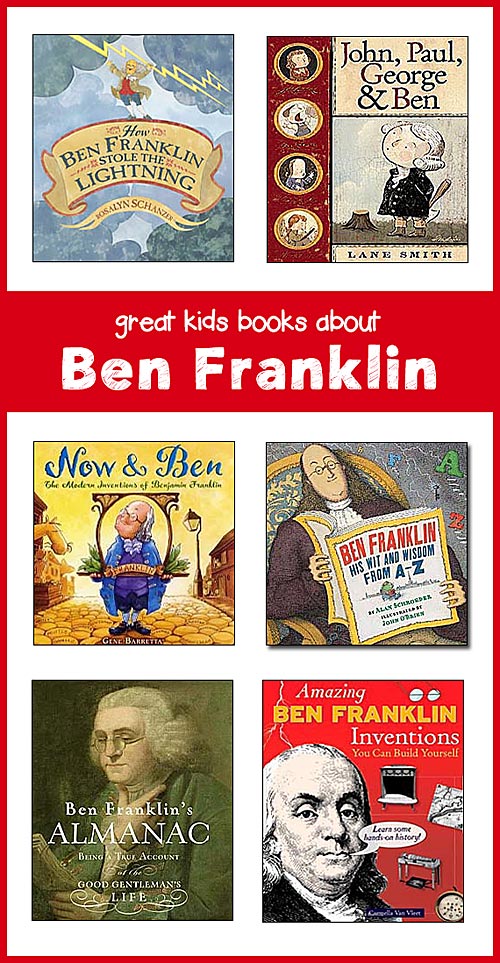 ---