A River of Words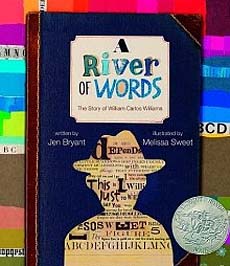 A River of Words
The Story of William Carlos Williams
by Jen Bryant & Melissa Sweet
This a stunning picture-book biography tells the story of a little known but extraordinary man named William Carlos Williams, who worked as a doctor by day and wrote Pulitzer-prize winning poems at night. Readers learn about William's life and how his love of nature inspired his poetry. And through that story, they also learn about the process of becoming a poet. Brilliantly done!
We adore this book! Truthfully, it took us completely by surprise (even though it's one of the Caldecott Award winners...you'd think we'd know better.)   This is a book you'll pour over and gasp, and Sweet's mixed media collages have wide appeal. Childlike drawings for the young and "artfully layered paper compositions" (Booklist) appeal to big kids. Bryant and Sweet incorporate pieces of William's poems into the text and the art.
And because Williams wrote about what he found extraordinary in everyday daily life, it's perfect to use when teaching poetry to kids who find the subject intimidating.

Awards Won
     * Caldecott Honor Book 2009
     * National Council of Teachers of English Notable Children's Book
     * National Council of Teachers of English Orbis Pictus Award 2009
     * Charlotte Zolotow Honor Award 2009
     * Kirkus Reviews Best Books List for 2008
     * School Library Journal Best Children's Book 2008
     * New York Times Best Illustrated Book 2008



Reading Levels
Interest Level: Grade 3-6         Grade Equivalent: 5.4        Lexile Measure: 820L


See Inside
Here are two sample pages and one sample spread from A River of Words. Sweet's mixed media collages will appeal to a wide range of ages. "Younger children will connect with the childlike drawings...while older kids will appreciate the artfully layered paper compositions." (Booklist) Additionally, Sweet has woven William's poetry into her illustrations, creating a strong marriage of the text and the illustrations. Brilliant work!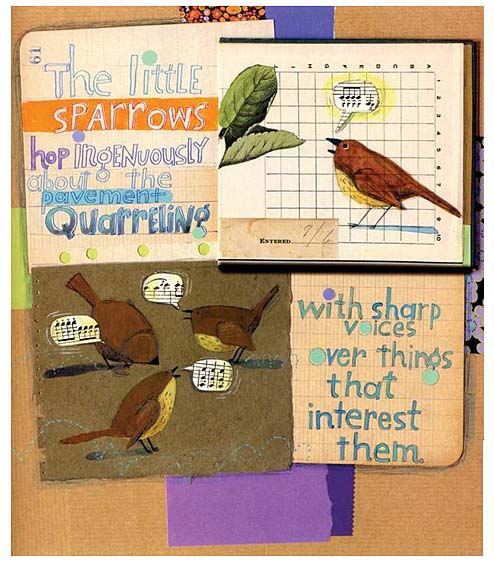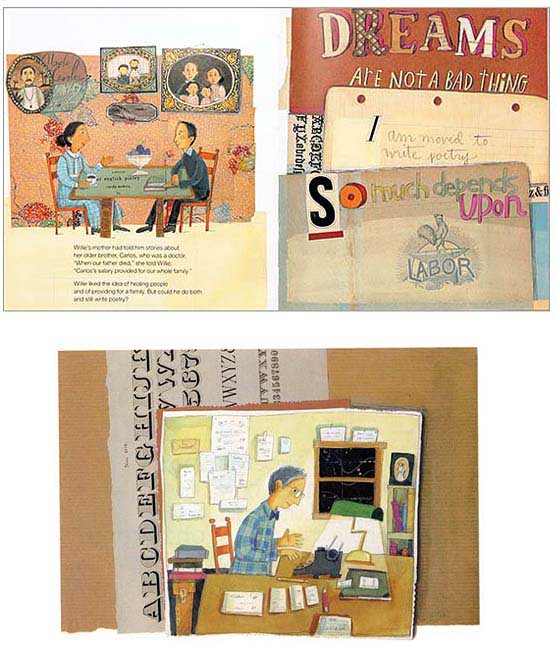 To learn more about this book, click the link below.  Please note that if you purchase an item from Amazon, they give us a small referral fee. (This helps pay for site hosting costs, thus allowing us to keep everything free for site visitors!)

---

This book won the prestigious Caldecott Medal for best children's books. Check out our list of all the books that have won the Caldecott Award.